PTO meeting TONIGHT 5:00 PM. Elementary Library.

5/6 Grade Basketball tonight vs. Sweet Springs. Girls' game begins at 5:30, followed by the boys'. Gate opens at 5:00 pm.

5th & 6th Grade Basketball tonight vs. Immanuel. BOYS will play first at 6:00 pm, followed by the girls.

REMINDER: There will be no Winter meeting for the Santa Fe AgriLeaders tonight. Please join us next week Monday, February 6th at 7pm for a look at Missouri's extended Weather forecast with Dr. Lupo, MU.

Activities for the week.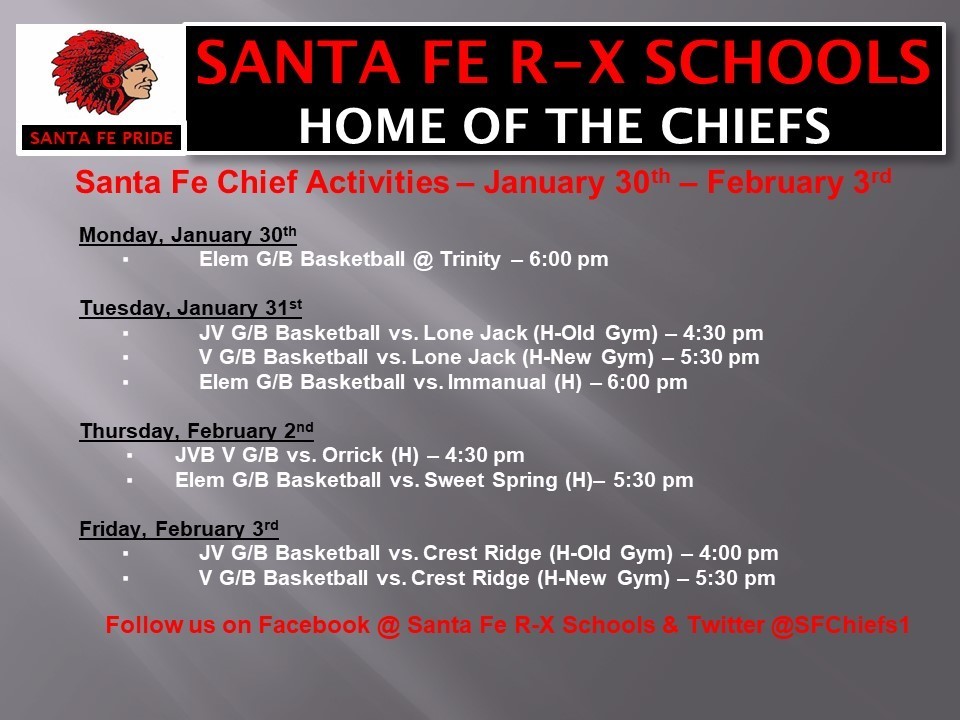 Congratulations to our Lady Chiefs on their win against Carrollton to claim 1st Place in Wildcat Classic Tournament for the 5th year in a row!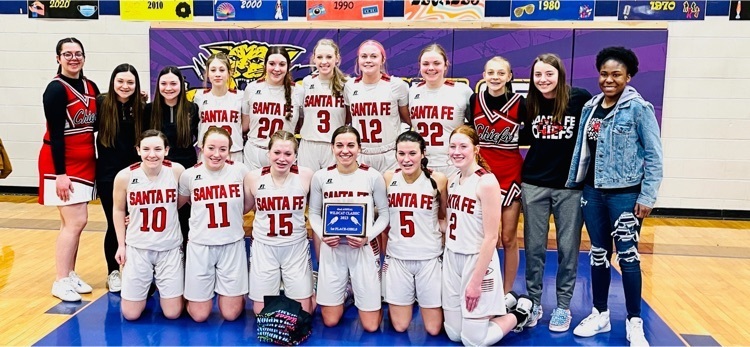 Santa Fe AgriLeaders Monday night meeting for January 30 is cancelled.

Updated Slater Tournament Bracket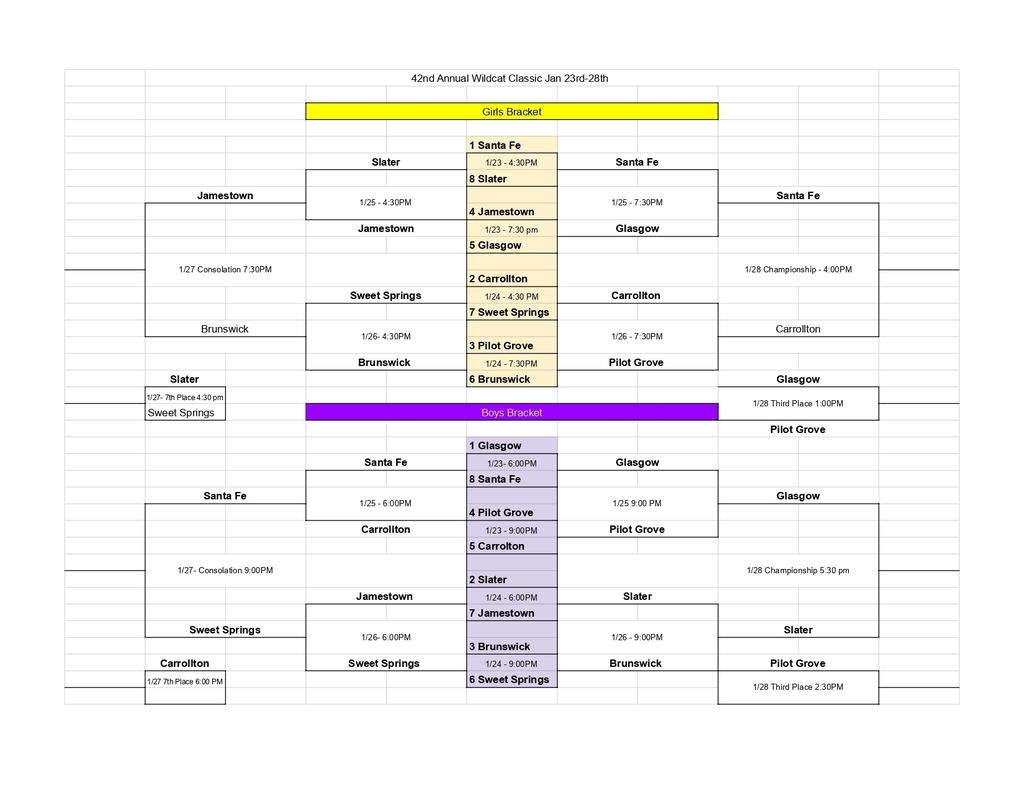 SF Boys Basketball plays tonight @ 9:00pm vs Sweet Springs for Consolation in the Slater Tournament. Go Chiefs!

Santa Fe Elementary's Big Life Goal for 3rd Quarter is "I can be okay, even when others are not okay." The JH and HS School students pictured were nominated by their teachers to share real life examples of how they can okay, when others are not. The partnership and meetings focuses on character education throughout the district. Students pictured: Landon Hostetter, Tyler Blasnitz, Atleigh Lark, Kyle Brooks, Maggie Johnson, Laney Ballenger, Mae Vandiver, Hayden Kirchhoff, and Jason Tebbenkamp.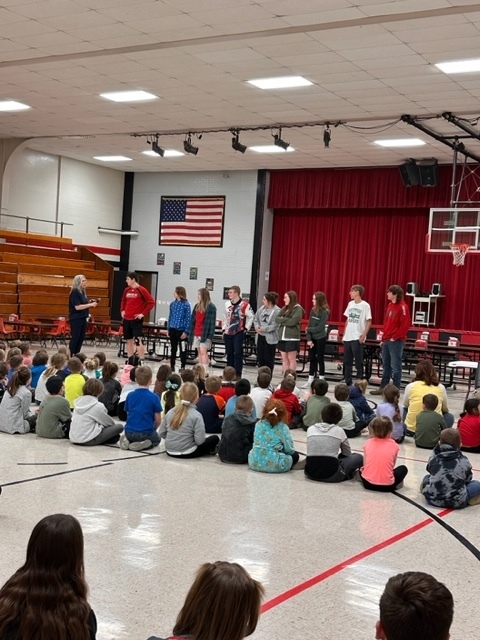 Congratulations to Michael Dierking for being selected the Area VI Star Farmer. He will be competing against 16 Area Star Farmer candidates from the state of Missouri at the annual State FFA Convention in Columbia in April. Michael will be interviewed by a panel of judges and ask questions about his Diversified Crop Production SAE and his FFA record book.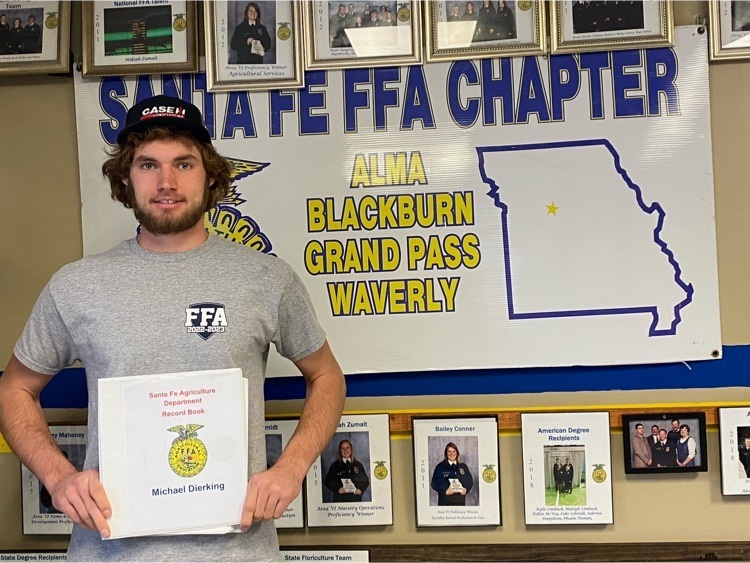 Updated Slater Tournament Bracket.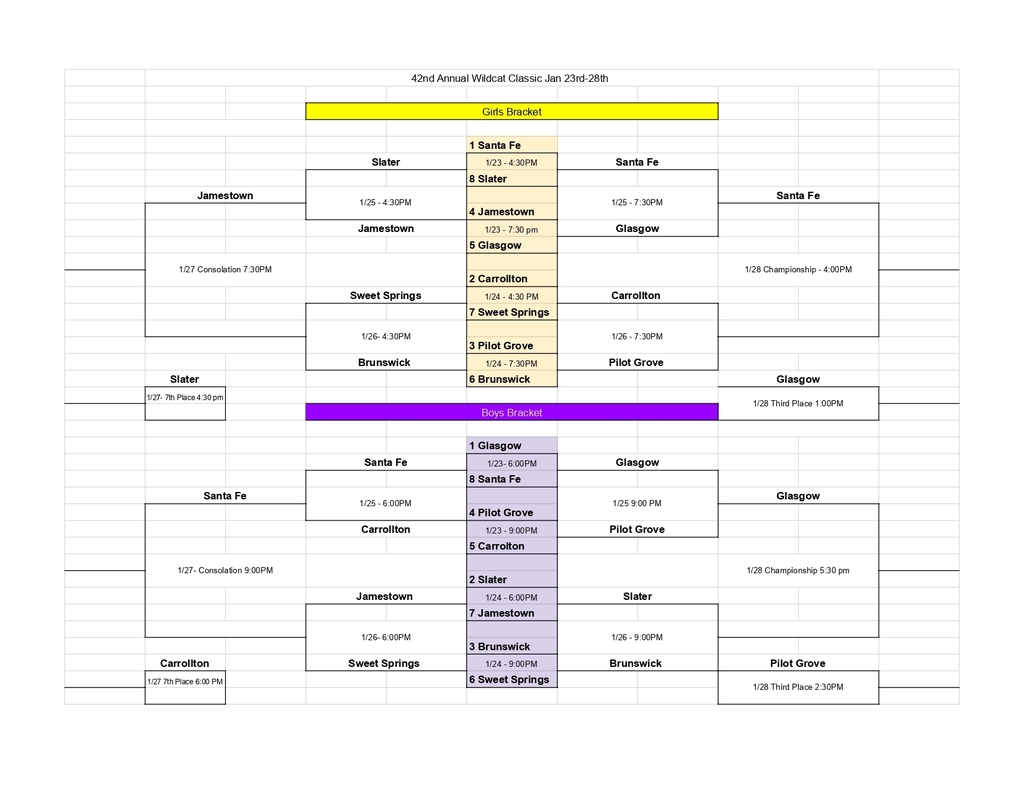 Santa Fe AgriLeaders: the MO Ag Stewardship Conference starts at 8:30am tomorrow inside the Concordia Community Center. Meal catered by Plowboys BBQ. Refreshments provided throughout the day. Walk-in registration welcome, $20 at the door.

Slater Tournament is still on for tonight. SF boys vs Carrollton @ 6 and SF girls vs Glasgow @ 7:30. Go Chiefs!

Due to road conditions, Santa Fe R-X Schools will NOT be in session today.

On February 7th, Wellington-Napoleon will host Santa Fe in basketball. This is going to be a Cancer Awareness game and we are asking for your help to fight this awful disease in our county. Please view the link to purchase a t-shirt to wear to this game and proceeds from all purchases will go the Lafayette County Cancer Coalition. Together We Fight! Purchases must be made by midnight January 25th!
https://liddlesports.chipply.com
wncancer/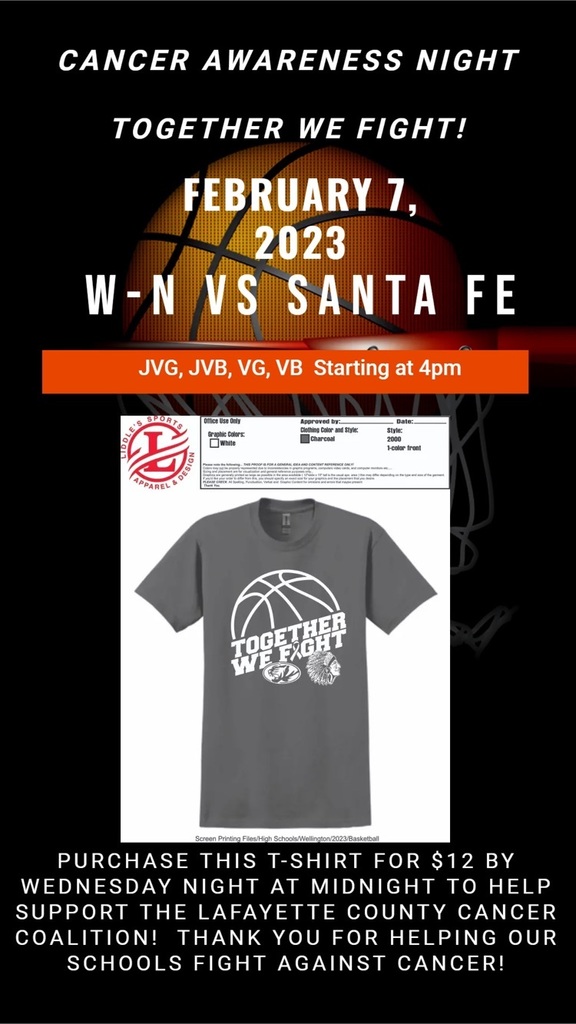 5th & 6th Grade Basketball tonight at Concordia Elementary. Girls play at 5:30. Boys will follow.

Santa Fe AgriLeaders: only TWO days until the second annual MO Ag Stewardship Conference! Get registered today! SFAL members attend for FREE with paid dues. See detailed agenda online at
www.santafeagrileaders.org
Everything kicks off at 8:30am Thursday, Jan. 26 at the Concordia Community Center!

Santa Fe AgriLeaders invite you to join us this evening at 7pm as we hear from Dr. Kelly Wilson, Assistant Director of Center for Regenerative Ag, MU. She will share details from the $25 Million grant the Center was awarded and how it could benefit your farm.

Weekly activities & Slater Tournament Bracket