The Santa Fe High School FFA chapter has been chosen as one of the first 2021 recipients of funding through the West Central Electric Cooperative Operation Round Up Foundation.
The $600 grant will be used for the group's Back Snack Program to provide Easter holiday packs for families enrolled in the program. The Back Snack Program serves 27 families in the Santa Fe School District, which includes 48 students. The Easter holiday packs will allow families to have an Easter dinner they would not otherwise be able to enjoy.
The West Central Electric Round Up Foundation was established in the fall of 2017 with the first funds being collected in September 2018. Members who chose not to opt out of the program have their bills rounded up each month to the nearest dollar with proceeds benefiting foundation applicants chosen for funding.
If you are interested in applying for funding for your organization, applications are available at www.westcentralelectric.com along with a list of program requirements. The board meets quarterly to consider applications and award funds. For more information on the Round Up Program, contact Kim Lewis at 800-491-3803 or 816-565-4942.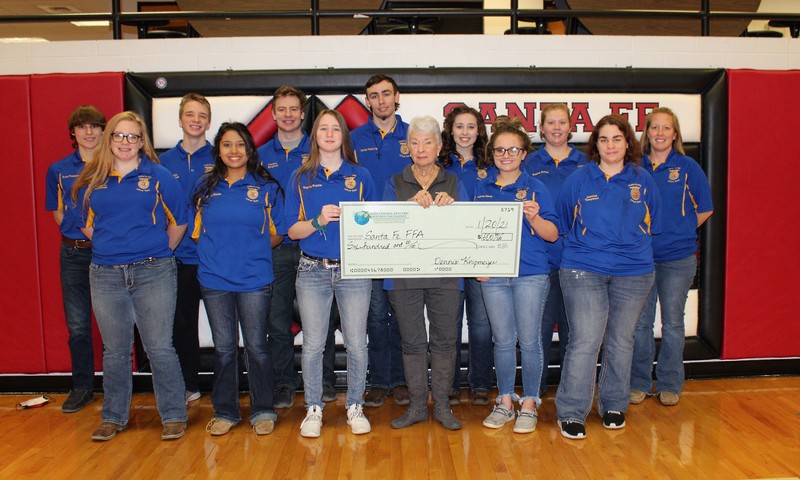 West Central Electric Cooperative Round Up Foundation presents $600 to the Santa FFA Chapter Back Snack Program.
Front row: (l-r) Katelynn Schreiman, Aislin Grado, Sophie Frazier, Round Up Board member Donna Matthews, Joscie Curry, Jasmine Templeton.
Back row: (l-r) Evan Finkeldei, Collin Kuecker, Caedon Bergman, Carter Fuehring, Callie Fuehring, Sophia Bolser, Santa Fe FFA Advisor Martha Schreiman.